Building 21 Boat Top Company

Custom Boat Tops & Cushions
Anderson Canvas & Upholstery has been serving the South Shore and Massachusetts since 1969. We've fabricated custom boat seats and canvas for hundreds of boat owners at our shop in Rockland, MA.
From small zipper repairs to full enclosures: all jobs are completed with the greatest attention to detail. Ask around. Building 21 has gained a reputation in the marine industry for our quality work.
If you have a job you would like us to look at, call us to set up a meeting. We will go over the job with you and write up a custom quote. Call: (781) 871-2159.
Beat the Spring Rush!
Now is the time to get that rip repaired or that cover fitted. Don't wait until mid boating season! Bring in your boat during the winter when you are not using it.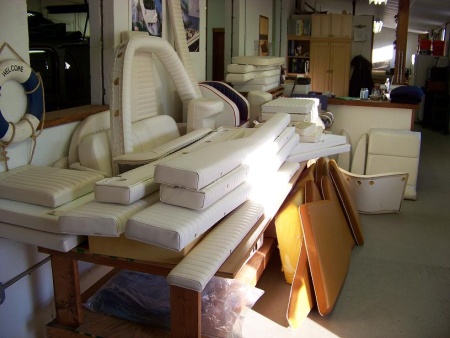 See examples of recently completed jobs »
Our Services
Bimini Tops
Boat Seats
Boat Seat Cushions
Boat Tops
Boat Top Frames
Canvas Covers
Canvas Repairs
Enclosures
Reglass Curtains
Restitching
Upholstery
Zipper Repairs
and More...